Happy Valentines Day! If you're reading this that means you're probably not on a date or cuddled up with a hot ladyboy somewhere. Maybe you're fantasizing instead. In this day and age it's so easy to connect with people all around the world that there is really no reason to be alone. It's no secret that Asia is home to the hottest ladyboys. Some of them are looking for cash but a lot of them are also looking for love. I've never had any trouble finding either and one reason for that is the abundance of dating sites.
Ladyboys used to have to try to blend in with the "regular ladies" to post on dating sites. Those days are over. Today ladyboys have their own dedicated dating sites plus their own categories on some of the more mainstream sites. There are times when they still have post as either women or men. Some like that and others don't. For me it is no big deal as long as I can locate what I am looking for. Through a lot of trial and error and years of experience I have developed the following list of the five best dating sites for ladyboys today.
1. Date In Asia – This is one of the original dating sites that featured Asian women. The site is really cool. They have never charged members to use the site. I guess they make money from ads placed on the site but those are really small and not intrusive at all. They do use some sort of software that can penalize and even ban people who use bad language on the site but I haven't had a problem. It's easy enough to simply chat up a ladyboy and ask for her contact information. Once I have another means to reach her, I can say or show her anything I want! The site doesn't have any way to sort out ladyboys but they appear frequently when searching for ladies in places like *Manila and *Pattaya. Ladyboys also stay active on the site and message guys all the time so even those who don't have the time or patience to search can still have a lot of fun, especially if they mention what kind of people they are looking for in their profile!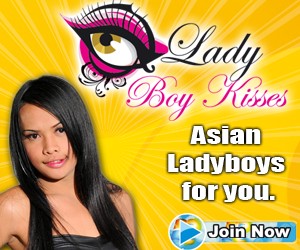 2. Lady Boy Kisses – This is the first site I found that catered specifically to Asian ladyboys, which as you could probably tell are my favorite. The site is well done and very easy to use. There are tons of Asian ladyboys on the site and even some from other areas. You can sign up and use the site for free but breaking out a little money to get a premium account really opens things up. You could meet more ladyboys on this site than you would ever have time to meet if you put in even a little effort.
3. TS Dates – This site is a little more open and direct than the others. It's an explicitly adult dating site and the people who are on it know what they want. You can be a lot more upfront on this website than most others, and you're a lot more likely to find ladyboys who are also upfront. It's not like chasing unicorns. There are actually heaps of ladyboys on this site who actually want to meet up with guys for fun. I don't know if I'd look for a wife on this site, but some of the chicks are good enough to make me want to marry them after a single meet! The best thing about this site is that it features ladyboys from all around the world. You can find ladyboys near almost every major city on earth on TS Dates.
4. My Ladyboy Date – This site popped up on my radar a while ago. It was created for guys and ladyboys looking for real romance. They don't tolerate any naughty chat or mention of money or things like that. Instead they aim to create a place for people to find love. It's more like a "regular" dating site and I think it's actually quite refreshing. A lot of ladyboys who live regular lives and work normal jobs would much rather use a site like this than some others which have a more naughty reputations. Courses for horses!
5. Badoo – This is one of my go to sites whenever I'm in places like *Phnom Penh or Ho Chi Minh City. It has a lot of regular chicks as you might expect, but there are a ton of ladyboys on the site too. They make themselves known and a lot of them are active on the site. I receive messages all the time from hot ladyboys throughout Asia. I have only spent money on this site once. Even when using it for free I have done really well. They have a cool app for your phone too.
That's my list. After putting so much time and effort into finding hot ladyboys I can't imagine that I am really missing anything, but I'd be happy to be proven wrong. If you know something that I don't, write about it in the comments.