Thailand is home to the most ladyboys in the world. Some would say it also home to the best ladyboys in the world. The Thai ladyboy Wine is a gorgeous and sexy shemale who has done porn scenes for most of the major producers. There is a very good chance you have seen her online. There's also a good chance that you want to meet her yourself.
In most cases, women you see in porn are basically in the realm of fantasy. The line is becoming blurred however. You can now talk to a lot of porn stars online. In some cases you can meet them at conventions and the like. With Southeast Asia ladyboys though, you can usually find them working in person.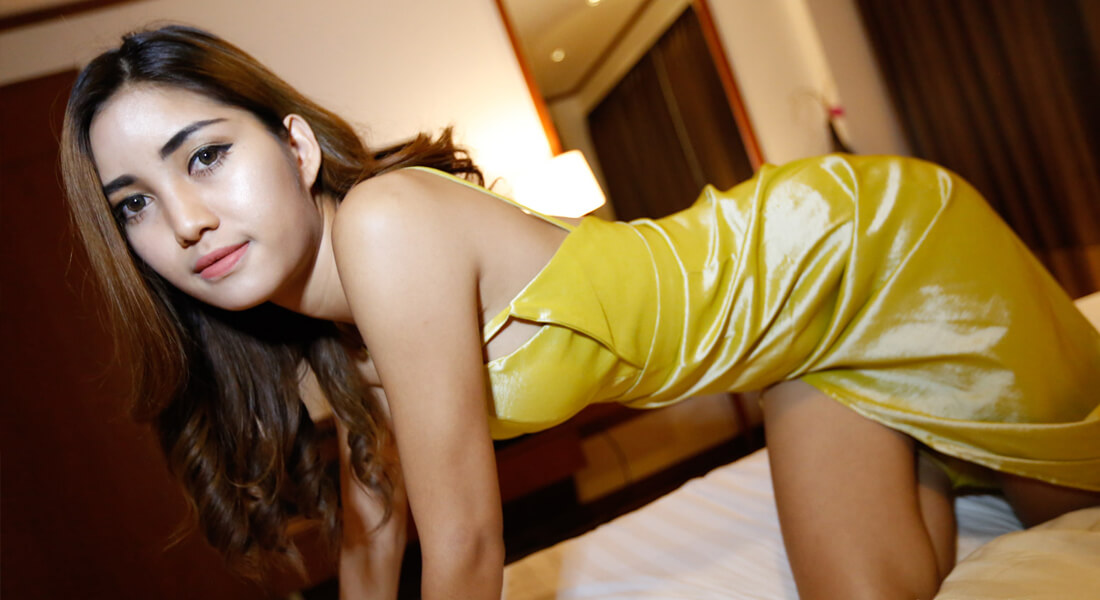 There are a lot of ladyboys in Thailand who actually won't do porn videos. That is easy enough to understand. But a large number of Thai ladyboys are all too happy to be record in all states of undress. They seem to get off on being admired, which fits in with a lot of their personalities. Wine is happy to do porn as you can see. She is also happy to meet her fans!
Wine is one of the ladyboys you could go out and meet tonight. She is very easy to find. She works at a popular and well known ladyboy bar in Bangkok. She is happy to meet with guys there almost every night of the week. If you want to meet Wine, here's what you need to know.
Thai ladyboy Why aka Wine
Wine is a beautiful Thai ladyboy in her twenties. She is of moderate height but rather fit with curves in the right place. She is also identified as "Why" by many people on the internet. This may be an issue with understanding the way Thai people pronounce things.
Wine has a unique look. Many mistake her for a real woman. Part of her popularity undoubtedly comes from her multiple appearances in porn. Her scene at Hello Ladyboy is probably her most popular. But she can also be found at Franks T-Girl World and Ladyboy Gold.
For years Wine had small hormone tits. Now she has big plastic boobs. Her penis is still small though, and it barely seems to get hard. That doesn't matter much for Wine, since she is indeed a bottom.
Wine speaks very good English. Her grip on the language is among the best you will find from a bar girl anywhere in Thailand. She can express herself clearly and listen too. Spending so much time around foreign guys seems to have helped her a lot in this regard.
Where to meet ladyboy Wine
Wine is currently employed at Mercury ladyboy bar in Nana Plaza. Mercury is on the right side of the plaza one floor up from ground level. It is easy to find with a big sign outside that literally reads "Mercury."
On top of that, there are always many ladyboys hanging around outside of Mercury. Well, that is unless there are customers inside buying drinks for everyone and splashing around the cash. That is always a sure way to pack the place is with hot and hungry ladyboys!
How to find Wine at Mercury
Once you get inside of Mercury you will spot Wine in no time. The bar isn't that big. The stage is fairly small and close to the seating. So all you have to do is make a quick scan of the ladyboys on stage. You are sure to find Wine with little effort.
Even if you never saw any of Wine's many sex videos and pictures, you would probably still spot her fast. Why really stands out. She is considered by many to be a very beautiful ladyboy. Some Thai women even remark that she is more beautiful than real women.
The ladyboys do take turns dancing on stage. They also go out to eat and do short time sessions with customers. So if for some reason you don't see Wine on stage, you can just ask for her. The mamasan or any waitress will know how to find her. If you ask another ladyboy, she might come up with some story to try to get a drink of her own.
There are many pictures of Wine on the internet. Opening one on your phone and showing it to the staff in Mercury would be the sure way to find her if you don't see her and can't request her by name. A clothed pictures would probably be best. Then again, the people in Mercury have probably seen everything!
Act now while Why is still a ladyboy
If you are interested in meeting Wine while she still has her little penis intact, you'd better hurry. Wine says she plans to have her dick lopped off very soon. This sex change surgery is becoming more common in Bangkok. Wine says she want to go through with it so she can "be a real lady." Make the trip now before it's too late if you're more interested in Why as a chick with a dick.
Gender reassignment surgery is relatively quick and inexpensive in Thailand. A lot of doctors do it, and all the ladyboys know who and where they are. Assuming Why is serious about her desire to get her twig and berries removed and turned into a man-made vagina, she could go through it in no time. She has to have the money available already. She's done so many porn scenes for different companies. On top of that she is a popular ladyboy at Mercury. She must rake in the dough.
Wine seems to go out of the bar with most guys who ask her. Many probably end up in a short time hotel right in Nana Plaza for sex. The bar fine at Mercury is 700 Baht ($22 USD). Wine typically asks for 1000 to 2000 Baht ($30-60 USD) for a short session. If she does a longer session she will probably ask for more.