Mercury Ladyboy Bar is a go go bar located in Bangkok's infamous Nana Entertainment Plaza. The bar employs a number of ladyboys who dance on stage for customers. In many cases they do a lot more than that too, as this review will go on to explain.
If you are curious about ladyboy go go bars in Bangkok, you should get a good idea of what they are like from this review. Mercury operates in the same way as a lot of other ladyboy go go bars in town. At the same time, there are some things that set it apart.
Location of Mercury
Mercury is located on the middle floor of Nana Plaza. That means you have to go up one flight of stairs if you are starting from the ground floor. Looking at the entrance of Nana Plaza, Mercury will be on the right hand side.
Mercury is very easy to find for two reasons. One is the big lighted sign out front that reads "Mercury." Another reason is that there are almost always a lot of hot ladyboys sitting out in front of the place.
These ladyboys aren't exactly aggressive, but they do let be known that they are present and available. Quite a few men have been convinced to go inside of Mercury after quite literally running into one or more of these sexy shemales.
Mercury bar layout
Mercury isn't a very big bar by Nana Plaza standards. But it is definitely as large as it needs to be. Any more room might make the place look empty or cavernous. Instead, it looks just right. It is an active and fun place without being overcrowded.
Inside there seating on the left and right sides. It's the typically go go bar style seating arrangement with row seats and tables. These seats are easy to get in and out of. Plus, you can sit close to the stage or further away if you want some distance.
The stage itself isn't very big, but it can easily fit ten dancers at a time. That's good since there are usually about ten ladyboys on stage at any given time. Anytime a customer walks in they assemble in front and motion that they are thirsty in a ploy to get a quick lady drink.
Ladyboys at Mercury
Mercury has a mix of probably twenty ladyboys working. Most are feminine looking with quite a few actually being near totally passable. They do have some masculine or amazonian dancers who look like they could manhandle a pro wrestler, but they are in the minority.
All of the ladyboys are Thai. They have typically brown skin with long brown hair. A few have lighter skin and look more like the Korean or Hello Ladyboy style. There is also at least one mixed-race ladyboy with dark skin and curly hair.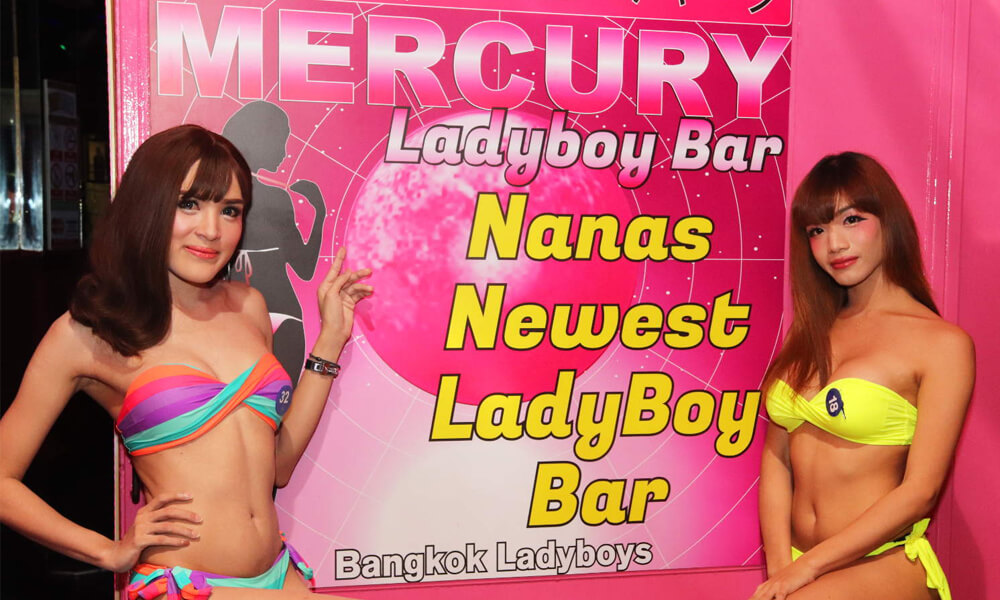 Overall, the ladyboys at Mercury are incredibly good looking. Most are fit with fake boobs. A few have more natural tits developed with the help of hormones. They all wear bikinis are quick to drop their tops in the bar.
The famous ladyboy porn star Wine works at Mercury. She can be found there most nights if she is not busy with a customer. Wine is famous for her remarkable good looks, and rightfully so. She has been with a lot of customers to be sure. But untold thousands more have wanked to her porn videos that are all over the internet.
Prices and services
At any go go bar in Thailand the women are looking for customers. They can make money from lady drinks, and some coyote dancers thrive on that. But by and large, dancers at Thai go go bars make their money by having sex with customers. Mercury is no different.
Ladyboys are usually even more eager than "real women" in go go bars to have sex with a customer. Female go go dancers will sometimes make excuses or outright turn a guy down. Ladyboy dancers rarely do so. That is true at Mercury as well.
Most dancers will want a lady drink in order to spend time with you. That's how you get to know each other. A lady drink at Mercury is 150 Baht ($4.50 USD). Not long after having a drink, a lot of guys will take a ladyboy out of the bar. The barfine at Mercury is a reasonable 700 Baht ($22 USD). On top of that, customers have to compensate the ladyboys for their time.
Ladyboys at Mercury want between 1000 and 2000 Baht ($30-60 USD) for short time. They prefer to do it in one of the short time hotels in Nana Plaza. Some will go to a guy's room if isn't too far away. A few will also do overnight "long time" sessions for 3000 Baht ($92 USD) or more.
Some of the ladyboys at Mercury have functional penises. Most can bottom, or receive anal sex. Some can top, or deliver anal sex. Quite a few are versatile, which means they can do top, bottom, or both. None are shy about discussing their services and abilities.
Conclusion
Mercury is far from being the biggest ladyboy bar in Nana Plaza. It is not the most well know in the plaza either, despite the presence of the famous ladyboy Wine.
Ladyboys have long been present in Thailand as books like The Third Sex demonstrate. But there was a time when ladyboy bars were pretty rare. Not long ago there were only a couple in Nana Plaza. Nowadays there are many.
With so many ladyboys bars in Nana Plaza, a small place like Mercury can easily get lost in the pack. That is not due to the bar itself or the ladyboys inside however. They are a mostly attractive bunch who really do their best to please.
Mercury Ladyboy Bar, Nana Entertainment Plaza, Sukhumvit Soi 4 (Soi Nana), Bangkok, Thailand. Open every day from 8:00 PM – 2:30 AM.